About Us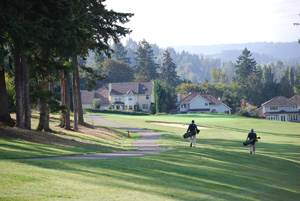 The course was originally built in 1948 and purchased by the City of Auburn in 1968. It is operated by the City of Auburn Parks, Arts & Recreation Department as an enterprise and all profits generated at the course go back into capital improvements for the course.
Over the past several years, our Auburn golf course has undergone a complete transformation with the reconstruction of nine fairways, 15 greens and 17 tee boxes.
Eighteen challenging golf holes are situated on a 150-acre site nestled along the Green River. From the forward tees the course is 5,434 yards long. From the back tees it stretches out to over 6,314 yards. The course is a Par 71 with a slope rating of 121 from the middle tees and 124 from the back tees. Over 20 bunkers, two ponds with fountains, and a waterfall will test your golfing skills on this well maintained facility.
Blue: 6,314 yds.
White: 6,034 yds.
Yellow: 5,434 yds.